Here's a timeline of events from January 10, the day when Asifa went missing.
10 January: The little girl Asifa went missing when she was herding horses at Rasana village, where her foster parents live during winters.
12 January: The father of girl filed a missing complaint in Hiranagar Police Station. On this report, FIR No 10/2018 U/S 363 RPC was registered in PS Hiranagar and investigation was taken up.
17 January: Her disfigured and mutilated body was found in the nearby forest of Rasana village. The postmortem of the deceased was conducted by a team of doctors at District Hospital Kathua on the same day. On primary investigation, a teen-ager investigation Shubam Sangra S/O Om Prakash R/O Hiranagar, Ward No. 10, A/P Rasana, residing with his maternal uncle Sanji Ram (former revenue official) in village Rasana, was taken to police station Hiranagar for questioning.
Villagers barred the girl's father from burying his daughter's body in the land he owned. The little girl was finally buried in a forest several kilometres away.
21 January 21: Talib Hussain, lawyer and social activist was arrested by the police while leading a protest rally in Kathua town
He was only released the next day after outrage in the State Assembly.
22 January: Joint Resistance Leadership (JRL) called for a protest in Kashmir and Chenab valley.
On the same day the case was transferred to the Crime Branch.
10 February: Deepak Khujaria, a 28-year-old Special Police Officer posted at Police Station Heera Nagar was arrested by a Special Investigation Team of the Crime Branch for the incident. Deepak was among those appointed to trace the girl who had went missing.
14 February: A group of right-wingers, believed to be affiliated to the BJP namely Hindu Ekta Manch took out a march.
People carrying the tricolour sought the release of Khajuria.
They have again come out with national flags pic.twitter.com/5xOmHunACc

— Nazir Masoodi (@nazir_masoodi) March 12, 2018
Two senior BJP ministers Chandra Prakash Gupta and Lal Singh attended a rally organised by the Hindu Ekta Manch, the group that has been spearheading the protest over the arrests. Mr Ganga termed the crime branch probe as "jungle raj" and directed the police not to make any more arrests. This march saw the participation of a few Congress leaders.
New Normal: Two cabinet Ministers of BJP participate in the Hindu Ekta Manch Rally in Kathua jammu in support of rapist & murderer. The Manch was formed after 2 policemen were arrested in the case of rape and murder of an eight year old child. pic.twitter.com/AlliPJkRCJ

— Wasim Khalid (@WasemKhalid) March 1, 2018
17 February: The Hindu Ekta Manch (HEM) has called on people to boycott the Gujjars and has sought that the purchase of milk products and livestock from them should be stopped. The meeting over the issue was held by HEM which was attended among others by the Vice Chairman of OBC Welfare Board, Rashpal Verma, and MLA Hiranagar Kuldeep Verma. The district president of Kathua Congress Committee and ex-MLC Subash Gupta was also part of the Hindu Ekta Manch meeting.
Listen to these honourable https://t.co/PTxqjts7wS directs Police Not to arrest any accused in child Rape & murder case,other inciting people for agitation,questions CB probe which is being monitored by the High Court. pic.twitter.com/UzvrHdHGVt

— Nazir Masoodi (@nazir_masoodi) March 4, 2018
19 February: Three youths who wanted to give a press conference on Kathua Bakerwal girl have been detained by police in Kishtwar.
March 4: Deputy CM of Jammu Kashmir and senior BJP leader Nirmal Singh assured a fair probe in the case.
7 March: Crime Branch wrote a letter to Director General of Police SP Vaid, saying the girl's clothes that were soaked in blood and mud were washed by the Kathua police before they were sent to a forensic laboratory.
March 8: Jammu and Kashmir Chief Minister Mehbooba Mufti had rejected the demand for a CBI probe, saying that the investigation was almost complete.
20 March: Sanji Ram, a retired government official accused of planning the kidnapping gang-rape and murder of an eight-year-old girl in Jammu and Kashmir's Kathua in January surrendered to the Crime Branch after his son was arrested a day before from Uttar Pradesh. He had been avoiding arrest since the high court
31 March: Four women relatives of the accused Sanji Ram had embarked on the fast-unto-death. They were joined by his wife on 04 April.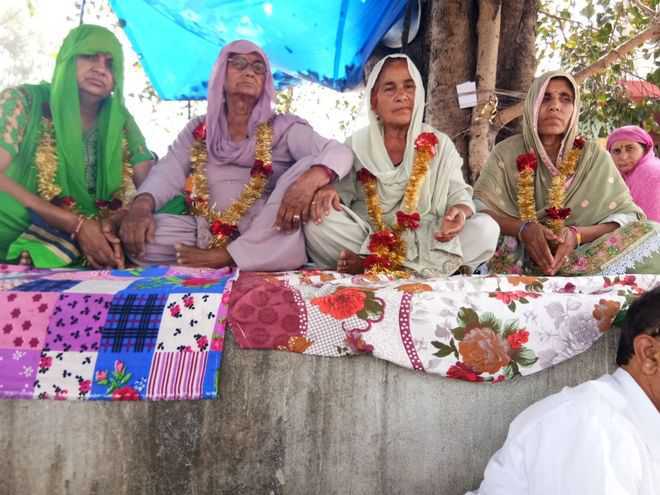 4 April: Police informed media that DNA tests of the girl raped and murdered in Jammu and Kashmir's Kathua district in January this year have confirmed that she was held captive inside a temple before being murder.
9 April: High Drama unfolded outside CJM Court in Kathua.Lawyers from Jammu. BAR Association prevented Crime Branch from filing charge sheet into gang rape and murder of 8 years of nomad girl. Police reinforcement was rushed to facilitate the entry of CB officials into the court.

10 April: An FIR was registered against lawyers who tried to block the presentation of a charge sheet in a court in Jammu and Kashmir in the rape and murder of the minor girl.
11 April: Lawyers of Jammu Bar Association called a bandh over various issues, demand deportation of Rohingyas from Jammu and handing over of the Kathua rape-and-murder case to the CBI.
12 April: KUSU protest and demand #JusticeForAsifa.

13 April: Complete shutdown was observed in Bhadarwah area of Chenab valley in Jammu and Kashmir against the rape-and-murder of eight-year-old Asifa Bano and the recent civilian killings in Kashmir.
13 April: The Spokesperson of the UN Secretary-General Antonio Guterres, Stephane Dujarric told reporters that he has seen reports about the "horrific case" of the abuse and murder of the nomadic Bakerwal community girl. We very much hope that the authorities will bring the perpetrators to justice so they can be held accountable for the murder of this young girl," read the statement.
13 April: The two BJP ministers, Choudhary Lal Singh and Chander Prakash Ganga, who had rallied in support of the accused in Kathua rape resigned from the Jammu and Kashmir cabinet. This came after BJP's Narendra Modi condemned the rape during a speech and gave an assurance that justice would be done.
13 April: Talib Hussain, lawyer and social activist was attacked by some people reportedly affiliated to the Bharatiya Janata Party in Jammu and Kashmir's Udhampur during the night.
16 April: Kathua Victim's Name Becomes Top Trending Search On Porn Websites. The trending search proves the large voyeuristic and sadistic consumer base for miseries of other people in India, which according to a recent study are among the most "prolific consumers" of internet pornography, accounting for 40% of the website's 14.2 billion visits.
16 April: The Kathua district court today postponed the date for hearing the case to April 28. All the accused were brought to court today and were produced before District and Sessions Judge Sanjay Gupta.
Several lawyers in Delhi took out a silent march demanding that the licenses of those lawyers who stood for the accused should be cancelled.
16 April: The Supreme Court (SC) asked the Jammu and Kashmir (J&K) government for a reply by April 27 on whether a plea to transfer the Kathua rape and murder case from the state's courts to Chandigarh should be allowed. The SC action came on a plea filed earlier today by the father of the eight-year-old.
16 April: Several lawyers in Delhi took out a silent march demanding that the licenses of those lawyers who stood for the accused should be cancelled.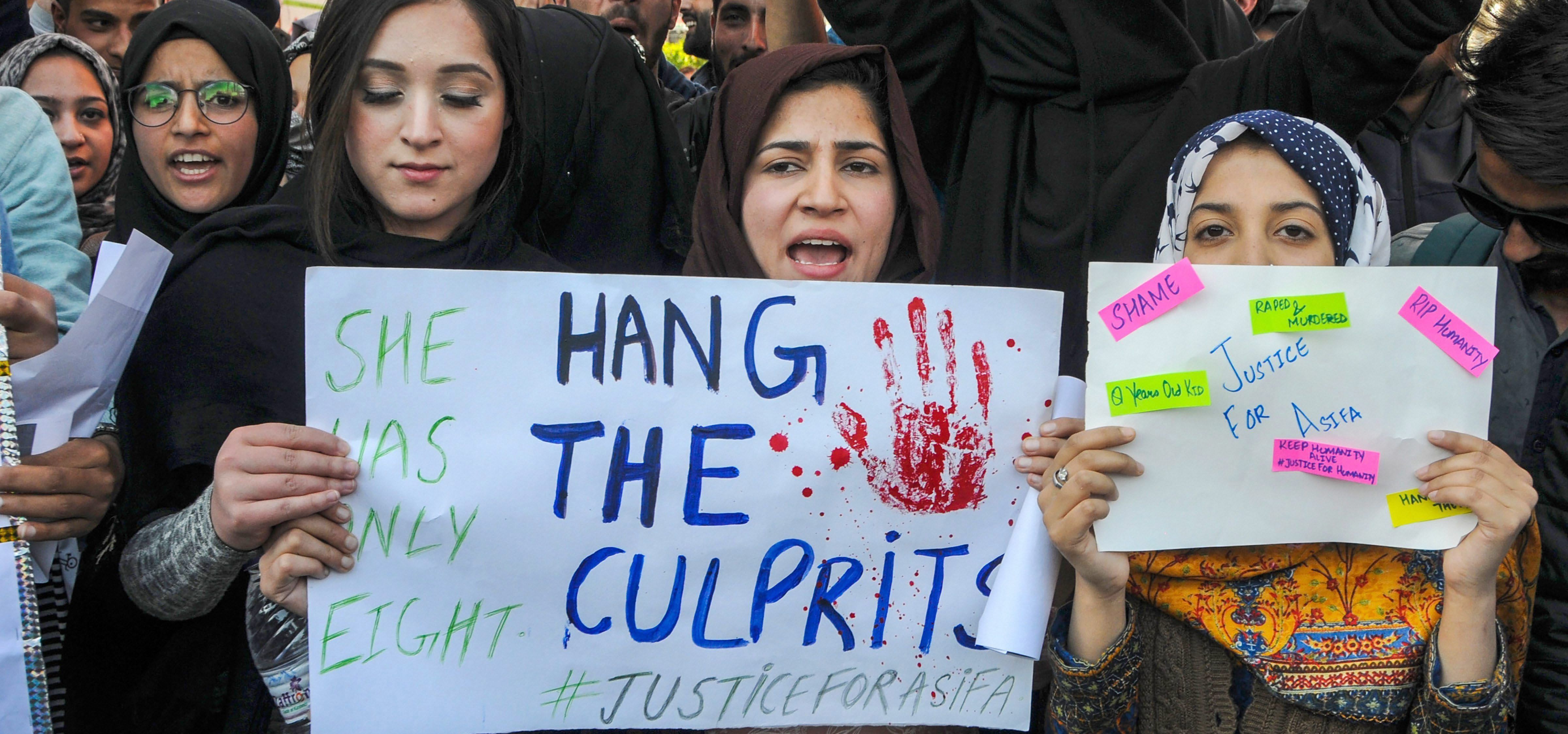 Share this article with your friends.
Send your contributions to write@withkashmir.com to get featured.
Leave your feedback in the comments below.
Comments
comments