The Kashmir and Palestine conflicts are over half a century old. India continues its military control over Kashmir; Israel continues its war on Palestine. While these two countries are related by a common desire of domination, Kashmir and Palestine share a bond of solidarity.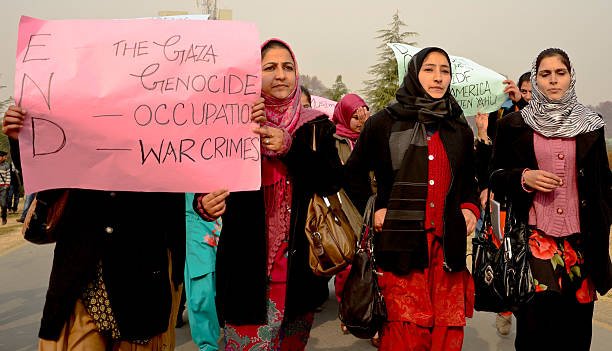 Below are the six instances in history which defined Kashmir's bond with Palestine.
1. Since 1951, Palestinian Grand Mufti Talks About Kashmir
Grand Mufti of Jerusalem in 1951 and an important Muslim leader during the Second World War, was a key figure of the Palestinian movement; he was also vocal against India's stance on Kashmir.
In February 1951, he addressed the delegates at the World Muslim Congress: "We shall meet next with sword in hand on the soil of either Kashmir or Palestine."
2. Protests in Kashmir over desecration of Masjid Al-Aqsa in 1960's
In the 1960s, protests rocked the region over the desecration of Jerusalem's Al-Aqsa mosque, resulting in deaths and an unrelenting curfew.
3. Graffiti dotting Palestine walls in solidarity with Kashmir
Save Gaza graffiti dots walls in Kashmir and thousands of miles away a wall in Palestine speaks loudly: Free Kashmir.
4. Kashmiris killed during Pro Palestine rallies
In July 2014, Suhail Ahmad Lone, a 15-year-old was shot dead in firing upon protesters in Khudwani, Kulgam area of South Kashmir. Suhail was part of a local protest in solidarity with Palestine.
5. Regular protests in Kashmir for Palestine
6. Boycott of Israeli Products
An amalgam of Kashmir entrepreneurs decided to boycott Israeli products and appealed to people to join them. The anti-Israel protests were not restricted to youths. Associations of lawyers, employees, and other groups also rallied for Palestine.
According to Dr Sheikh Showkat, a law professor in Kashmir, it is not a one-sided solidarity. 'Resistance groups working at grassroots levels in Palestine have always supported the Kashmir cause', he says.
Share this article with your friends.
Send your contributions to write@withkashmir.com to get featured.
Comments
comments