There's nothing that can justify the brutality in the manner which Ayub Pandith was killed by a mob. But as it has been happening with tragedies in Kashmir, the Indian Hindutva troll brigade milks a tragedy to score their political points, like always.
This time, they have created a narrative that Mohammad Ayub Pandith was killed because of his surname. A surname that has 'Pandit' with an 'h' in it.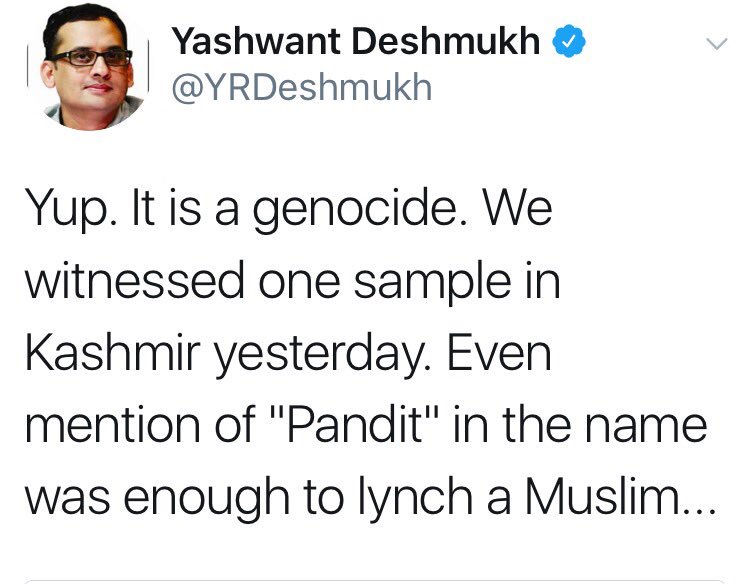 Here's another Facebook post endorsing the hoax:
"So they mistook him for a Pandit. Surprised to note that Pandit blood still draws attention. But the fact is he very much looked like one; however, unfortunately, didn't turn out to be – as he was a Mohd. and Ayub too. How does it matter? He was still a Pandit," wrote a netizen whose Facebook account identified him as a Kashmir-born English writer.
His post further adds, "In present-day Kashmir, both one who kills and one who gets killed is a Pandit – both leapt to a different faith centuries back. The day my brothers back home realize this, peace will prevail – otherwise it won't. Have you ever seen a Pandit kill someone? "Ever", I ask?"
Eyewitnesses have said that the police officer was killed after he had an altercation with some youth outside the mosque, who objecting to his clicking pictures from his cell phone inside the mosque and probably mistook him as a spy or "agent".
Indian media claims that Ayub's card reads his name as Ayub Pandith, thus, as soon as the mob saw the card, they immediately starting hitting him so as kill him. Total lies, we'll come to that later.
A little background on the surnames in Kashmir first:
Kashmir has been a culturally and religiously diverse nation since the beginning of time. You'll find the roots of Buddhism, Shaivic Hinduism and Islam in its past and the present. After the mass spread of Islam in the 14th century, most of the new Muslims kept their surnames with them.
Kashmiri surnames aren't based on caste but on krams. Kram means nicknames. A Kram can be based on the profession or the manner in which the ancestors of a particular family was known.
For example:
Gooru – A milkman and cowherd is called Goor in Kashmiri.
Bhan – It is an ancient Kashmiri nickname given, perhaps, to those who sold the utensils.
Bazaz – Some ancestor of the family must have been a cloth merchant
Mattu – It is derived from the Sanskrit word Math. Some of the ancestors of this family must have either been founders or managers of some Math.
Dhar – It is stated to be a pure gotra name.
Mujoo – It means a radish in Kashmiri. Ancestors of this family are said to have come from Mujja Gund, a village in district Baramulla.
Raina – It is stated that the Pandits who originally belonged to Rainawari and later settled down in the main city were known as Raina.
So the surnames or krams were kept as it is. Thus both Kashmiri Hindus and Muslims share their surnames and it is very common in Kashmir.
Both Kashmiri Muslims, as well as Kashmiri Pandits, need not any examples to know this well-established fact on surname sharing as this is a very common case in Kashmir. But for outsiders, here are a few more lines –
There are many examples of Muslims and Hindus from Kashmir sharing the same surnames, for example:
Farah Pandith: A Kashmiri- American academician and the first-ever Special Representative to Muslim Communities for the United States Department of State.
2. Dr Mahmooda Dhar: A senior gynaecologist from Srinagar. She is a Muslim and carries 'Dhar' surname.
3. Naseer Pandith: A Hizb militant formerly a security guard, of a politician, who fled with the service rifle. By the logic that Indian media is propagating, was Naseer Pandith too killed because of his surname?
To say that Ayub Pandith was killed because of his surname is to invoke the Hindutva communalism in Kashmir. It's to give a slant that he was killed because of his surname that's also shared by Hindus.
In fact, if one does a survey, he would find Muslims with 'Pandith' surnames far outnumbering those from Hindus.
It's a hoax that's being shared to milk Hindutva agenda. Unfortunately, as the Indian media keeps the Indian people largely misinformed about Kashmir, most would give in to this blatant hoax.
Fact: Praveen Swami had also written the fake Delhi blasts story that kept Kashmiris in jail for 16 years.
Comments
comments