2016 was a year without rains in Kashmir. It did not rain since the night Burhan Wani was martyred. Oh wait! It did rain. Not water but pellets. In an authoritarian display of unbridled power, an unprecedented use of pellets was made on the streets of Kashmir which blinded, maimed and even killed.
Torsoes scripted with pellet marks became a highlight of the year. Perforated eyes demonstrated the lethality of pellets. A foreign journalist asked why youth wore goggles when it wasn't much sunshine outside. He was an Indian and did not know these goggles covered the scars of crimes committed by his state.
Ironically, as their use continued, pellets were dubbed as "modern methods of crowd control" by the Jammu & Kashmir High Court. This was done to arm the forces with these lethal weapons to control dissent on streets. The judicial system seldom lagged behind to act hand in gloves with the "government". This has been the grim story of a colonial legal sytem that is positioned in a colonised valley.
The pellet gun is to be used against "particularly agitating mobs who resort to heavy-stone pelting, rioting, arson, at the instigation of militants and separatists with the intention of causing loss to life of police personnel and those of security forces, besides the public and private property", the High Court had said in its order.
While overriding its own legal structures, the "government" said, "court cannot guide the law enforcing agencies to act in a particular way/manner. The court being not an expert does not recommend as to how the law and order situations are to be controlled." A true indication of how both operate in simultaneity to suppress people.
Insha Mushtaq, of Sedow Shopian, became a global face of pellet horror when she was hit by pellets on July 12 while peeping through the window to see what was happening outside. She has not been able to see since then and doctors doubt if she can, anytime in life. Mehbooba Mufti offered to donate her eyes while Shabir Shah adopted her. Nothing however can mitigate her dark future.
7163 injuries were caused by pellets. More than 1000 eyes were hit by pellets this year which prove that the aim was to cause maximum injury by targetting upper periphery of the body whereas the farcical Standard Operation Procedure of the forces requires them to use them below knees when required. The year was rightfully termed as the first mass blinding in the history of mankind.
Pellets knew no barriers. They snatched lives irrespective of the target and whether the target was part of a protest or not. Nasir Shafi of Harwan was 11. Junaid Akhoon, pelleted to death on the entrance of his house, was 12. Riyaz Ahmed, the ATM guard, was 23. Yawar of Batengoo was 23 too. As many as 14 deaths occured due to the indiscriminate use of pellets.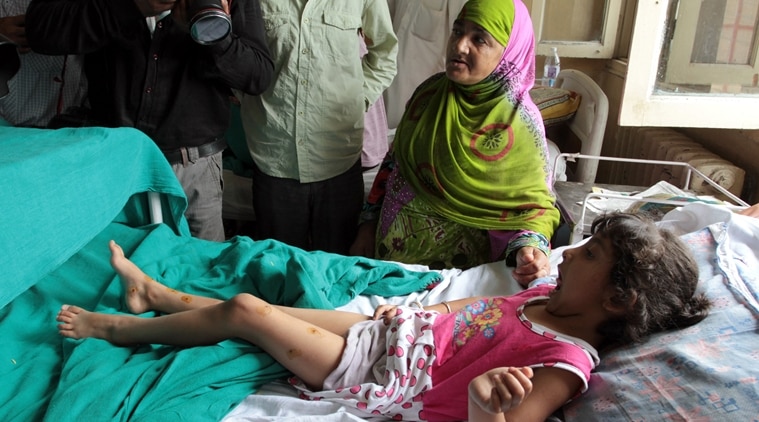 At Nowshehra in Srinagar, 4 year old Barena and her 8 year old brother Zaffar were fired upon by pelletgun while on the scooty with their father. Barena apparently became the youngest victim of pellets. Six pellet injuries every hour and two eyes per hour was the frequency achieved by rampant forces this year.
People For Animals, an NGO, got a legal stamp on their plea to ban use of pellets on animals. But across Kashmir, througout the year, pellets kept piercing human bodies. And no cry was raised or any tryst to ban their use was made. Cries from human rights groups and trysts by local bar association was pushed to the bin. Ultimately what matters for the state is territory and not people.
Dissenting people keep on evolving newer methods of fighting the oppressor. Sometimes they also have to react to the oppressor's new tactics. To fight pellets, youth wrapped X-ray films around their heads to protect their eyes, wore many clothes especially jeans to protect their bodies and also carried plywood sheets as shields.
Blinded eyes will soon learn the Braille script and pen more powerful tales of resistance. The eyes haven't stopped dreaming. A Kulgam guy hit by pellets first raised slogans in the hospital before being taken away for treatment. A youth from Islamabad wished to see his mother once. And freedom. Blindness never means defeat.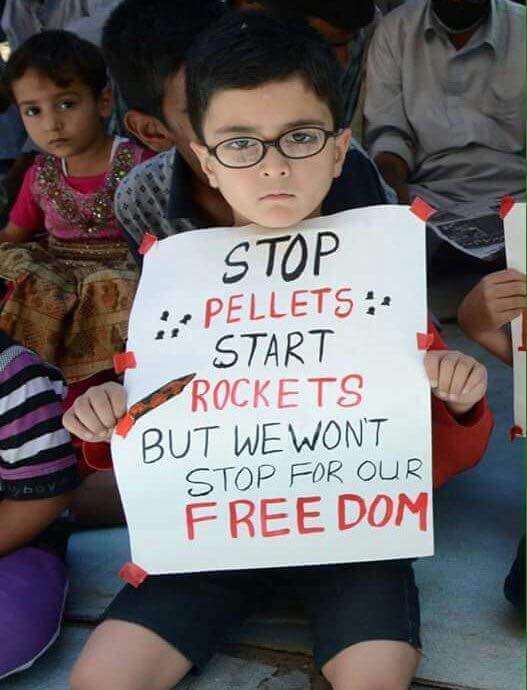 A placard held by a protestor aptly suggested the sentiments harboured by Kashmiri people even after mammoth bloodshed committed by the state.
"Stop pellets, start rockets. Even then we won't stop our struggle".
Comments
comments